ENAIRE is internationally awarded for airspace management innovation
ENAIRE has won two of the five annual Jane's ATC Awards and a Single European Sky Award for airspace management innovation. These awards, granted during the World ATM Congress in Madrid, bestow worldwide recognition on Spain's air navigation provider for its contribution to the aeronautical industry.
These awards bestow worldwide recognition on ENAIRE and its professionals
Jane's ATC Awards are prestigious, aeronautical industry awards sponsored by the Jane Airport Review; the most important companies in the industry are drawn each year to these international awards, hoping for their projects to be globally recognised and rewarded.
ENAIRE has won two Jane´s ATC Awards, one in the "Service Provision" category, for its ecosystem of tools known as "Flow Tools Ecosystem" aimed at optimising air traffic management capacity and efficiency, and the other in the "Environment" category together with its R+D+i subsidiary, CRIDA (Reference Centre for ATM Research, Development and Innovation), for Perseo-Emissions, the application that enables CO2 in-flight emissions to be monitored.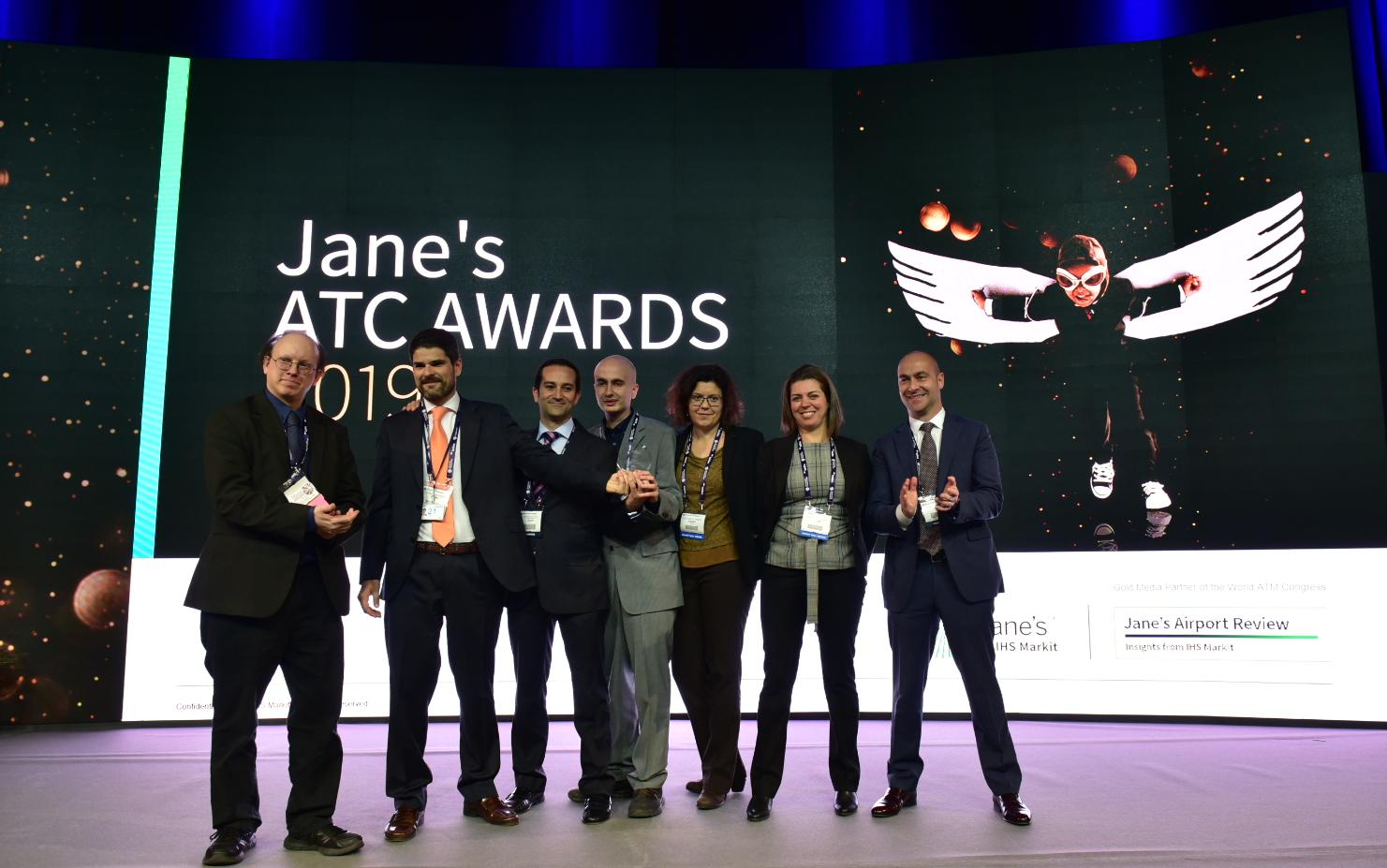 ENAIRE received the Jane´s ATC Award for its ecosystem of tools known as "Flow Tools Ecosystem" aimed at optimising air traffic management capacity and efficiency.
Flow tools is a multidisciplinary suite of applications for solving global problems at a local level, enabling the analysis of raw data from multiple sources, such as the European Network Manager (via its B2B data link), aviation weather information providers, local databases, etc.
All this data is crossed, analysed and used to provide information which helps optimise traffic management, for example, to establish time periods when a single runway can meet demand, reduce noise pollution during operations, minimise delays and solve problems arising from excess demand.
As for Perseo-Emissions, the other tool for which ENAIRE and CRIDA have been jointly awarded, it enables different emissions (CO2, NOx, SOx, etc.) from air traffic in Spain to be calculated and monitored during the different flight phases from the airport of origin to the airport of destination. Among other benefits, this application provides information to improve environmental efficiency during air traffic control operating procedures.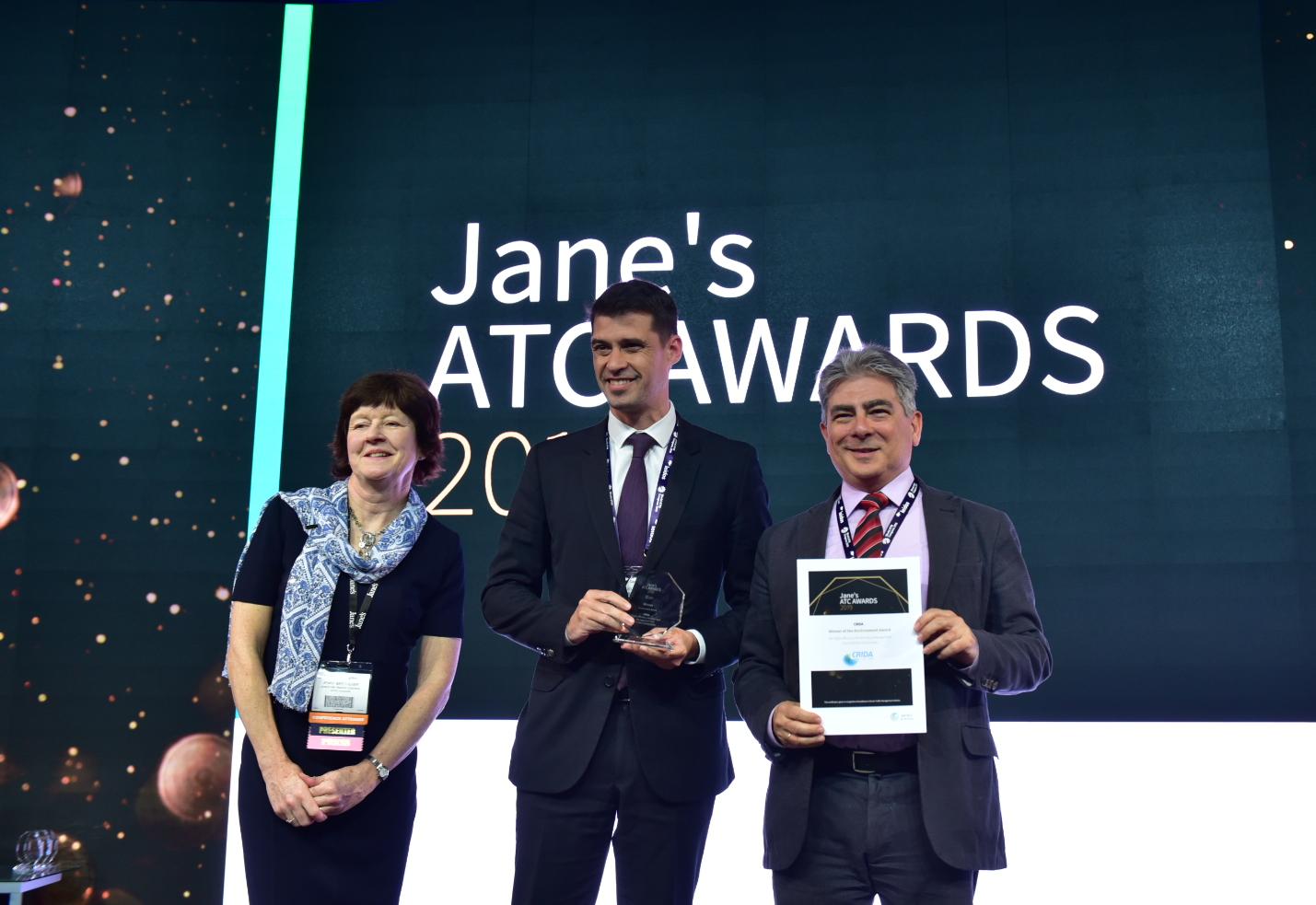 ENAIRE received the Jane´s ATC Award in Environment category for Perseo Emissions together with CRIDA.
Single European Sky Awards
Together with Eurocontrol as Network Manager and the air navigation service providers in France (DSNA), Germany (DFS) and Switzerland (Skyguide), ENAIRE has received the Single European Sky Award from the European Commission in the "Innovation" category.
ENAIRE is spearheading Network Manager data integration and exchange, thereby helping to improve airspace efficiency, capacity and safety by applying new technology and ongoing innovation, developing its own proprietary tools to exchange data with Eurocontrol and other suppliers.
ENAIRE, together with Eurocontrol and the ANSP of France (DSNA), Germany (DFS) and Switzerland (Skyguide) received the Single European Sky Award in the Innovation category.
The SES (Single European Sky) Awards are sponsored by the Directorate-General for Mobility and Transport (DG MOVE) of the European Commission, the aim being to boost and publicly showcase the initiatives of all special interest groups who are collaborating in Single European Sky development.
Within the scope of these awards, ENAIRE has also received a special mention for its cooperation with the AEFMP partnership initiative, which aims to optimise air navigation service provision for the airspace comprising Algeria, France, Morocco, Portugal, Tunisia and Spain.
World ATM Congress
The World ATM Congress is the annual meeting of the international aeronautical community. This event will be held in Spain at IFEMA's Trade Fair Park in Madrid, from 12 to 14 March. This seventh edition will host 8,500 professionals from 130 countries, 230 companies from the aeronautical industry and 80 air navigation suppliers.
About ENAIRE
ENAIRE is the company belonging to the Public Works Department that handles air navigation in Spain. It renders aerodrome control services at 21 airports, including the busiest in terms of air traffic, plus en-route and approach control, from five control centres: Barcelona, Madrid, Gran Canaria, Palma and Seville.
In 2018 ENAIRE operated 2.1 million flights to and from four continents (Europe, America, Asia and Africa), transporting 300 million passengers.
ENAIRE is the fourth most important European air traffic manager, and, in a clear commitment to the Single Sky initiative, belongs to international partnerships such as SESAR (Single European Sky ATM Research) Joint Undertaking, SESAR Deployment Manager, A6, iTEC, CANSO (Civil Air Navigation Services Organisation) and ICAO (International Civil Aviation Organisation).
Communication Directorate
Number of the Department of communication +34 912 967 551
Communication department email address comunicacion@enaire.es