ENAIRE managed more than 170,000 flights in April, a 4% increase
All traffic types are increasing, especially domestic traffic
ENAIRE, Spain's air navigation operator and 4th in Europe, managed more than 170,000 flights (173,727) in April, 4% more than in the same period in 2017.
All traffic types are increasing, especially domestic traffic, with 35,163 flights, 10.2% more. Domestic flights were 101,212 (+1.7%) and overflights (which do not depart from or arrive at a Spanish airport) were 37,352, an increase of 4.6%.
That is already 55 months of uninterrupted air traffic growth.
The number of flights handled continues to grow strongly in all of ENAIRE's Control Centres: Madrid (+4.3% and 97,440 flights), Seville (+3.9% and 34,225), Canary Islands (+3% and 28,837), Barcelona (+2.5% and 77,315) and Palma (+1% and 23,460).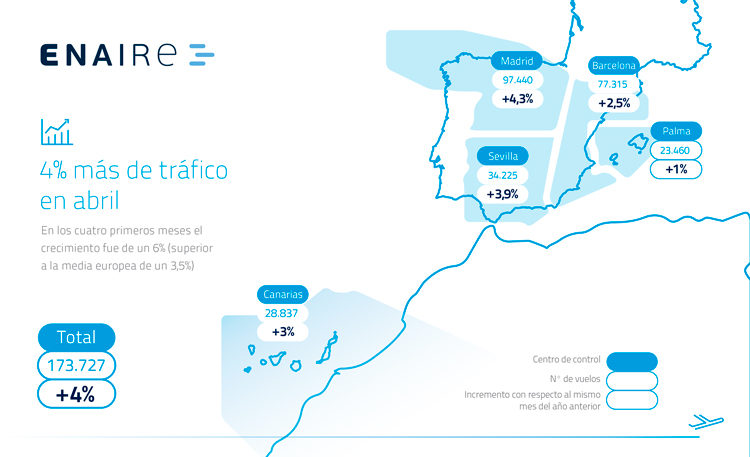 Cumulative data for 2018
From January to April, ENAIRE has already operated 587,556 flights, 6% more than in the first four months of 2017, a percentage higher than the average 3.5% European increase in the same period.
Of these, 328,700 were international flights (+3.9%), 129,082 domestic flights (+9.8%) and 129,774 overflights (+8%).
Accumulative traffic also increases for all control centres: Canary Islands (+6.3% and 117,364 flights), Seville (+6.3% and 117,330), Madrid (+6.2% and 345,876), Barcelona (+4.9% and 241,346) and Palma (+3.5% and 57,559).
About ENAIRE
ENAIRE is the public company that reports to the Ministry of Public Works, which manages (through its 5 control centres, 22 towers and a network of aeronautical infrastructure and equipment) the fourth largest airspace in Europe in terms of traffic volume. The air traffic managed by ENAIRE transports over 250 million passengers in 2 million flights per year.
Communication Directorate
Number of the Department of communication +34 912 967 551
Communication department email address comunicacion@enaire.es