ENAIRE processed over 3,600 applications for non-commercial flights and aviation activities in 2019
ENAIRE processed a total of 3,629 applications for non-commercial aviation operations in Spanish airspace over the course of 2019. Almost a quarter (868) of the requests processed by the Operations Coordination Department (COP) were for military exercises, followed closely by aerial photography jobs (573). Applications filed to operate drones (536) increased by 49% compared to 2018, the first year in which remotely piloted aircraft were allowed to operate in controlled airspace.
This was followed by general queries, which totalled 418, along with 338 requests to stage fireworks displays. Together with festivals and aerial sports (272), filming (111), done in most cases from helicopters, flights to inspect power lines and gas pipelines (100) and the establishment of Temporary Restricted Areas (ZRT) for public safety reasons, royal household security and other sporting events (86), they accounted in total for 91% of the applications submitted during 2019 for non-commercial aviation operations in Spanish airspace.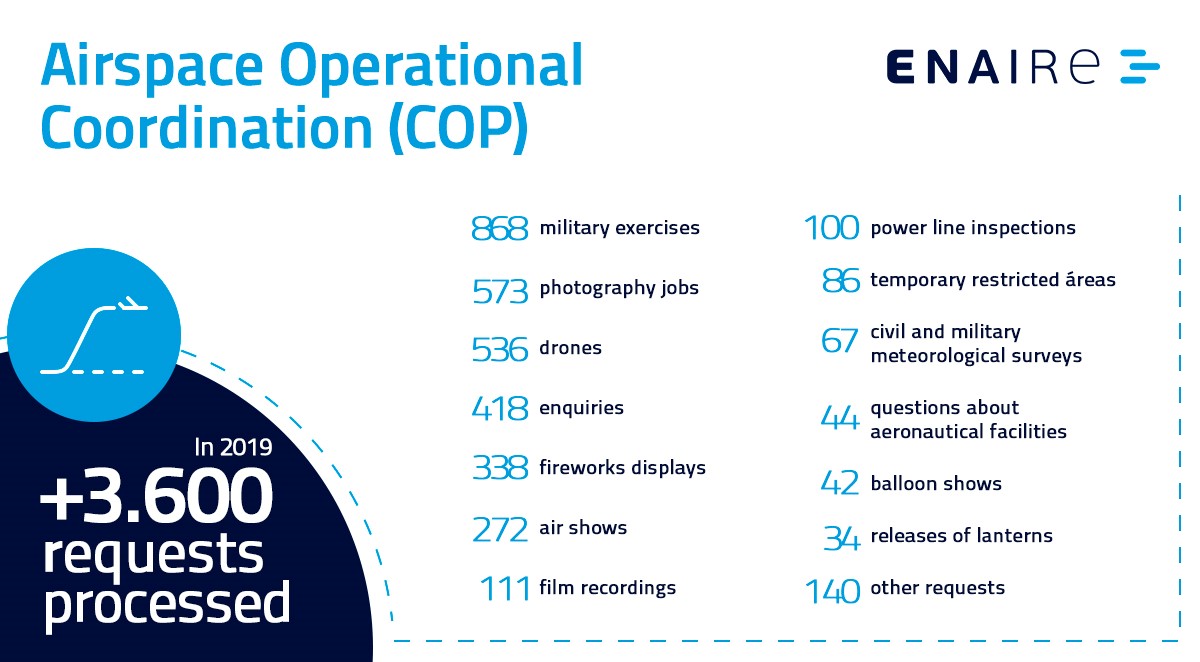 The rest were for civil and military meteorological surveys, queries about aeronautical facilities, such as heliports or restricted aerodromes, balloon shows, the release of lanterns and other requests.
ENAIRE, responsible for coordination
In addition to managing air traffic through 5 centres and 21 control towers, ENAIRE is responsible for coordinating all of the activities mentioned. Any such activity requiring the use of airspace, whether or not an aeronautical notification (NOTAM) is issued, must be processed by the Operations Coordination Department (COP).
ENAIRE is responsible for coordinating the operation with the controlled units and giving the operational conditions to follow
The COP receives the requests (via the website, email or ICARO) with the information on the activity and coordinates them with the air traffic services (ATS) units affected. If everything is satisfactory, a positive reply (go) is issued for the activity, along with the operational conditions to be satisfied, such as preparing a flight plan, coordinating beforehand with the tower or air control centre, or the frequencies to be monitored.
If the COP decides that information is missing or that something cannot be done, the situation is discussed with the applicant until the requirements needed to ensure safe and efficient air navigation are met.
If the activity requires a NOTAM, this is coordinated with the Air Staff and with ENAIRE's Aeronautical Information Service (AIS), and ends with the publication of the NOTAM.
About ENAIRE
ENAIRE is the company belonging to the Ministry of Transport, Mobility and Urban Agenda that provides air navigation services in Spain. It renders aerodrome control services at 21 airports, including the busiest in terms of air traffic, plus en-route and approach control, from five control centres: Barcelona, Madrid, Gran Canaria, Palma and Seville. In addition, ENAIRE provides communications, navigation and surveillance services to 45 air control towers.
In 2019, ENAIRE handled 2.1 million flights to and from four continents (Europe, America, Asia and Africa), transporting 300 million passengers.
ENAIRE is the fourth most important European air navigation service provider, and, in a clear commitment to the Single Sky initiative, belongs to international partnerships such as SESAR (Single European Sky ATM Research) Joint Undertaking, SESAR Deployment Manager, A6, iTEC, CANSO (Civil Air Navigation Services Organisation) and ICAO (International Civil Aviation Organization).
Communication Directorate
Number of the Department of communication +34 912 967 551
Communication department email address comunicacion@enaire.es