ENAIRE managed more than 220,000 flights in July, an increase of 2%
ENAIRE, Spain's air navigation manager, managed 220,719 flights in July, 2% more than in the same period in 2018.
The highest traffic figure from 2018 was surpassed twice: on 20 July (7,425 flights) and 13 July (7,398 flights).
Traffic grew at a slower pace than in the previous year, both in July (+2.0% vs. +3.1% in 2018) and on aggregate (+4.0% vs. +5.2% in 2018), as well as with respect to previous months in 2019.
This effect is due largely to the decrease in international flights, mainly in the Canary Islands (-9.2% vs. July 2018) and the Balearic Islands (-3.3% vs. July 2018), and to a slowdown in domestic flights compared to the previous year, which registered a growth of 5.4% in July compared to the 7.4% reported in 2018. On aggregate, this growth was 4.9% vs. 9.9% for the same period in 2018.
Traffic grew at a slower pace than in the previous yearIn July, domestic traffic increased by 5.4%, with 41,285 flights. Overflights (which do not take off from or land at a Spanish airport) totalled 46,058, a 6% increase. The number of international flights stands at 133,376 (-0.3%).
The number of flights managed in July at all of ENAIRE's Control Centres were: Canary Islands (+0.7% and 29,970 flights), Madrid (+2.4% and 112,211), Seville (+4.9% and 41,545), Barcelona (+1.6% and 110,407) and Palma (-2.1% and 46,804).
Cumulative from January to July
ENAIRE has managed 1,238,633 flights so far this year, 4% more than in the same period in 2018.
The flight numbers through July for all of ENAIRE's Control Centres are as follows: Madrid 688,578 flights (+4%), Barcelona 563,086 (+4.8%), Canary Islands 207,816 (+3.1%), Seville 245,447 (+2.1%) and Palma 186,809 (+2.1%).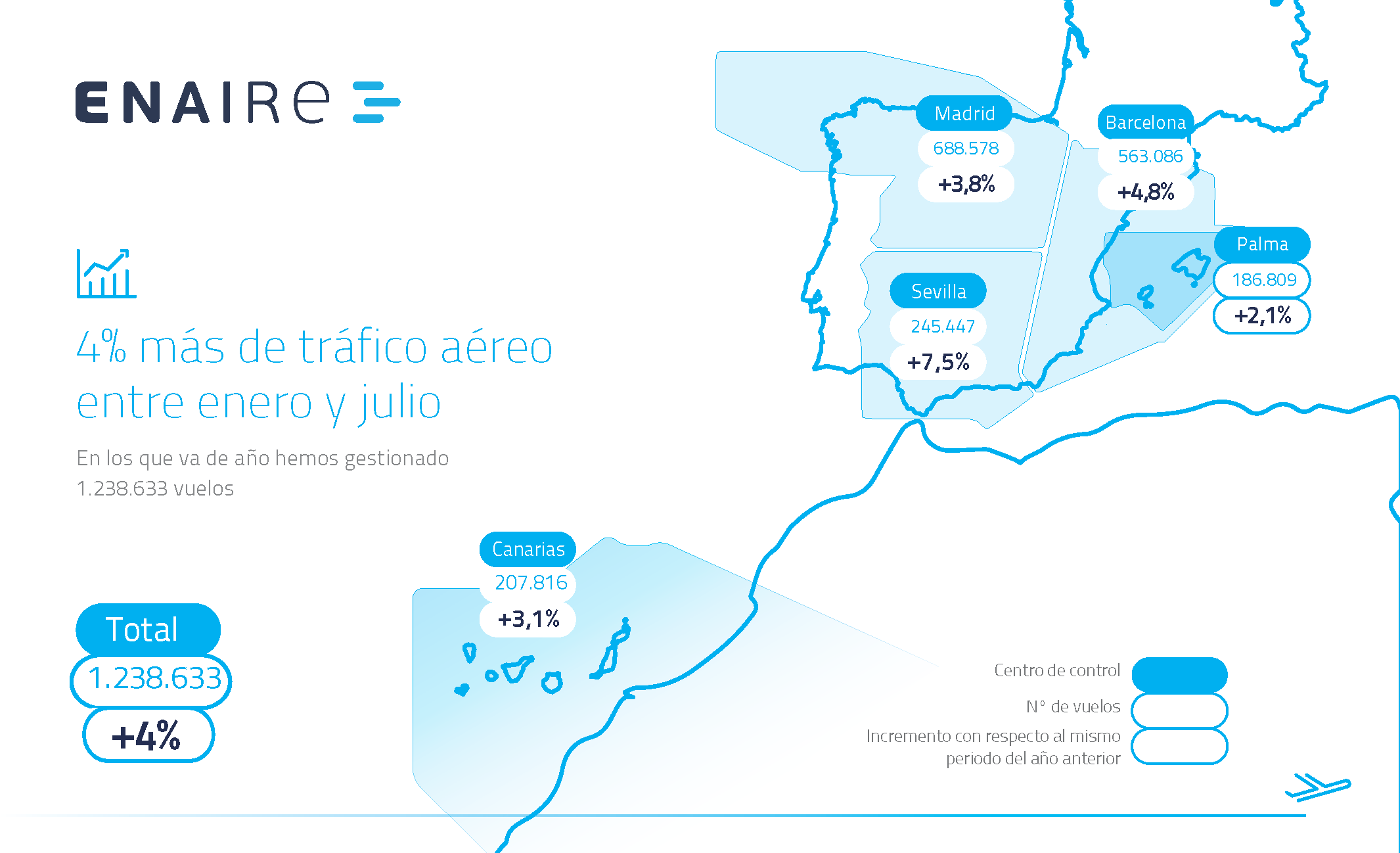 About ENAIRE
ENAIRE is the company belonging to the Public Works Department that provides air navigation services in Spain. It renders aerodrome control services at 21 airports, including the busiest in terms of air traffic, plus en-route and approach control, from five control centres: Barcelona, Madrid, Gran Canaria, Palma and Seville. In addition, ENAIRE provides communications, navigation and surveillance services to 45 air control towers.
In 2018 ENAIRE handled 2.1 million flights to and from four continents (Europe, America, Asia and Africa), transporting 300 million passengers.
ENAIRE is the fourth most important European air navigation service provider, and, in a clear commitment to the Single Sky initiative, belongs to international partnerships such as SESAR (Single European Sky ATM Research) Joint Undertaking, SESAR Deployment Manager, A6, iTEC, CANSO (Civil Air Navigation Services Organisation) and ICAO (International Civil Aviation Organization).
Communication Directorate
Number of the Department of communication +34 912 967 551
Communication department email address comunicacion@enaire.es